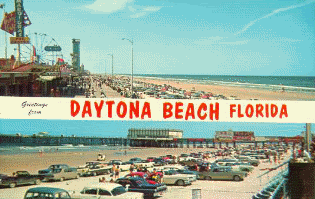 Dear Sister,

All this time I've been here in Florida, and I haven't once gotten to dip my toes in the Atlantic Ocean, so I made Itty-Biddy take a detour to Daytona Beach. Margie, some of these scandalous bathing suits made me blush! You know how I sunburn, so I kept my muumuu on, but Itty-Biddy acted like she thought she was at a nude beach. As you might have guessed, this story ends with Aunt Biddy and I bailing her out of the local jail. Margie, crazy doesn't just run through this branch of the family, it gallops.

I think you'd better tell Cousin T to start moving out of my room, I don't think I can stand much more of these two.


Love, Edna


Margie: Edna, far be it from me to say that I told you so but I surely did. I knew somebody would end up in jail. I'm surprised it wasn't you, though, because you do love a nude beach.

My stars! Are you saying you'd rather live with me than live with the crazy Biddy's? I want to hear those words from your mouth.

Edna, Cousin T. says he likes it here and he especially likes your room. He said to mention squatter's rights?