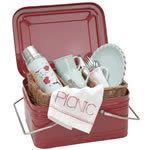 Margie: Cousin T, isn't this a lovely place for a picnic? You pour us some special tea while I unpack the picnic basket. I do declare, it feels like Christmas without Edna here to gripe and complain.

I brought fried chicken, potato salad, and your favorites; pickled eggs and fried gizzards. Now you eat up and you can have your surprise for dessert.

Cousin T: You brought all of that and a surprise to boot, I would hug you if our family was the type to engage in that type of affection!

Margie: Well, we aren't but thank you for the thought. Here you go. It's your favorite Peanut Butter and Banana pudding.

By the way, how are we getting out of here?


Cousin T is Dumbstruck. No one, and he means no one has ever made all of his favorite things for the same meal. He has a sudden nearly uncontrollable urge to hug Miss Margie…and maybe even to give her a little kiss on the cheek. Instead he slowly lifts his head and says:

"I'll bet there is some old gas in Uncle Jaybirds barn. I hope it works; This gas would most probably be the 1 dollar 79 cent variety. My truck has gotten used to 4 dollar gas."

Margie: You smart boy. You've always been my favorite. Here's $ 2.21 to put in the gas tank. I think your truck will work fine then. You can fool it into thinking that's $4 gas now.