Jericho Kindred Spirits: Looking for that special someone? We bring the singles of Jericho together. Discover your soul mate or life's companion. Join now and submit your profile to find your special someone.

Name: Edna
Ht.: 5'4"
Wt.: That's between my General Practitioner and me.
Eye color: Blue
Hair: Blonde
Sex: 100% lady
Occupation: Keeping an eye on my wayward sister takes up most of my time, I don't have the energy to work too.
Marital status: Currently single and looking for that special someone.
Religion: That's between my higher power and me.
Age: I plead the Fifth.
Hobbies: Baking, cooking, crocheting, embroidery, and shooting pool.

Please answer these questions in detail:

1. Modesty is a virtue.

Edna: That's not a question, but I'll answer it anyway. I do believe that modesty is a virtue, and I practice it at all times. I'm modest and virtuous, and don't let my evil sister tell you any differently.
2. It is irritating to be told what to do.

Edna: Goodness, it surely is. I've been told what to do by my older sister all my life, and I surely won't tolerate it in a romantic partner, I don't care if you do have all your teeth and hair.

3. It is alright to ignore laws that don't make sense.

Edna: Heavens no! I obey all the laws, even the ones that don't make sense. Just ask Deputy Jimmy and Mr. Hawkins.
4. What kind of partner are you looking for?

Edna: I'm looking for a good listener and a man who's light on his feet. A good sense of humor is a must. I'd prefer it if he lives as far away from Jericho, KS as possible, as I wouldn't mind putting some miles between myself and my sister.
5. Are there any qualities in a partner that you will not tolerate?

Edna: No smokers, and he must have full control of his bladder. Beyond that, I'm pretty tolerant.
6. Describe your perfect partner.

Edna: Someone who's smart, funny, and can dance and hold his liquor. He should think I'm the center of the universe, even (and especially) when my sister is in the room. And he should be able to pick locks, because if he's handsome my sister will surely try to lock him in the basement.
7. Is there anything you would like to add that we haven't asked?

Edna: Well, I can't imagine what you haven't asked, since you all are the nosiest bunch I've ever seen. I know my sister has applied to you all as well, so please don't send us the same dates. That could get quite confusing.
I'm including a picture of myself to post on your website. Maybe that will help your gentlemen members decide.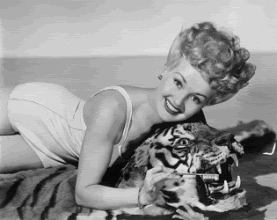 Thank you,
Edna