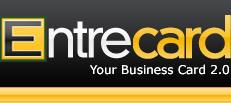 Dear Entrecard visitors,
Some of you may have noticed that we haven't been dropping our EC card on you lately. It's with some regret that we announce today that we'll be leaving Entrecard in the very near future. This is due to a variety of issues, not the least of which is the excessive time needed to make the daily drops, as well as the computer viruses that both of us have gotten time and again from dropping on EC widgets. Although we've received some decent traffic, and have met some truly wonderful bloggers, it's just time for us to say goodbye to Entrecard.
We will keep our widget up until everyone's ads have run, and we will continue to advertise our blog until we run out of EC credits. After that, we will be taking our widget down and leaving the Entrecard system altogether.
Now, even though we won't be part of the Entrecard system anymore, that doesn't mean we'll stop visiting you! We will continue to make the rounds of our favorite blogs, because you are surely a talented bunch of people and we have so enjoyed reading your blogs every day. And we hope none of you become strangers, either. Margie and Edna would get awfully lonely without folks dropping by from time to time.
We'll leave the light on.

Love,
Jane (Margie) and Beth (Edna)