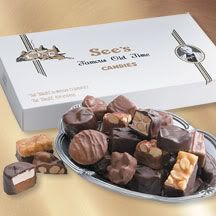 Edna: Margie, I know we've written posts in the past talking about some of our favorite products, with the hopes that the companies might send us free stuff. But those posts have been kind of a bust, so I have an idea that might get those big corporation's attention.
Margie: Maybe we could make up a recipe. These companies like to see their products in a recipe.
How about Hershey's Chocolate Butterfinger Godiva See's Cake?
Edna: I'd for sure eat that cake! I can see that you've guessed my idea: make as many mentions of products that we can in a short blog post.
You know, I was thinking that the companies might like to know that I often sit in front of my Dell computer drinking Dr. Pepper, eating Mint Oreos and talking on my Nokia cell phone. All while listening to my iPod and using Bath and Body Works' Coconut Lime Verbena body lotion while I try to find something good to watch on my LG Flat-Panel LCD HDTV.
Margie: I like that one, sister. Maybe Neutrogena would like to know that I take them with me in the shower after I've eaten Little Debbie cakes and had a glass of Meadow Gold milk. After my shower I brush the chocolate away with Crest and Listerine. Then I rub my young looking body with Oil of Olay lotion which makes me look fabulous.
I then crawl into my bed of Martha Stewart sheets and read an Amazon.com book.
Edna: You know, nothing would make me sleep better at night than a Sealy Posturepedic mattress. Too bad I don't have one, which is why I take Advil Liqui-Gels for my bad back. Of course, a slice of your Hershey's Chocolate Butterfinger Godiva See's Cake might heal up my back right quick!
Margie: I'm on my way to the kitchen, sister. Just call me Betty Crocker!