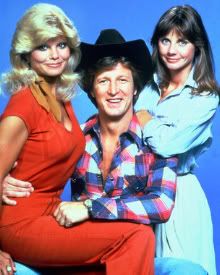 Loni Anderson, Gary Sandy, and Jan Smithers; circa 1978
Edna: Margie, do you remember that Gary Sandy from WKRP in Cincinnati? Whooee, I tell you what, I tuned in to that show every week just to watch him in his tight trousers. Mercy, and I was still a married woman then, too. I had to watch on the sly, my husband was a mite jealous. Now that I'm a single gal, I wonder what that Mr. Sandy is up to these days?
Margie: Hello friends and neighbors! You've just heard my floozy sister telling on herself.
Yes, Edna, I remember Gary. He wasn't my type. I heard he liked morons so I guess you should try to find him. Where could he find a bigger moron than you?
Edna: Margie, why must you be so hateful and insulting? You have a black heart, and that's the truth.
You know, I did some research to try and track down Mr. Sandy but he's a hard man to find. I guess he was briefly on The Young and the Restless back in 2001. His last television appearance was with Ann-Margret in 2004, in a TV movie called A Place Called Home. From what I could tell from the rest of my Internet snooping, he's been doing a lot of theater work in the last 10 years or so. Good for him, I like to see my favorite actors still doing what they loved best.
He needs to update his website, though; that thing hasn't been touched since 2003 and that's just a crying shame. I know I'm not the only

WKRP

fan who wants to know what he's been up to!
Gary Sandy and Loni Anderson; CBS at 75;
November 2, 2003

Currently, the first season of WKRP in Cincinnati can be seen on hulu.com. A Place Called Home, quite coincidentally, can be seen tonight at 9PM EST on The Hallmark Channel.