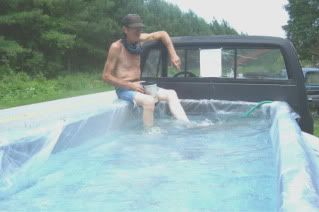 Margie: Edna, I'm all set for summer. Look at the swimming pool Cousin T & his boss made for me. The Margiedales are out of nursing school for the summer so we'll be hanging in the pool.
I asked Meals On Wheels to deliver my food to the pool every day too. Guess what, Edna? I can even stay in the pool while one of the boys drives us to Grace's Market to buy Pepsi.
Edna: Lord in heaven, Margie! Just when I think you can't embarrass me more, you sink to new lows.
You mark my words right here and now: if you go driving down the street in that thing, I'm going to call Deputy Jimmy and report a moving violation. You and the Margiedales are in for a heap of trouble, sister.
Margie: Sister, the only moving violation in this town is your mouth!
Edna: Just don't you forget that we have decency laws around here, too. I'm not coming to bail you out of jail because you've been riding around town topless, you floozy.