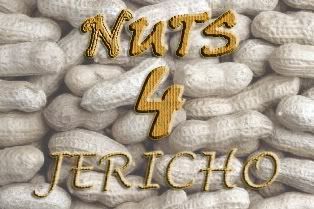 Margie: March is National Peanut Month. I guess we all know a lot about peanuts. Yes, I remember when CBS came to town and filmed Jericho. It was a wonderful show even though a lot of nuts watched it. I bet a lot of nuts are still working at CBS too. I won't call any names.

I remember all the nuts we sent those folks. Those were the days, huh? Well, it's pretty quiet here these days. Edna and I still go to Bailey's but Skeet doesn't come by anymore and all those TV trucks are gone.

You all grab some nuts and let's watch the reruns of Jericho. Come see us again. We'll leave the lights on for you.