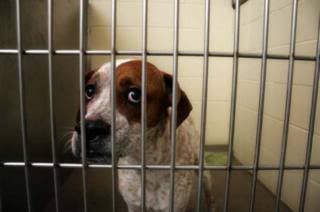 Margie: Edna, did you know that October is Adopt A Shelter Dog month? There is only one thing in the world that annoys me more than you do and that's people who pay high prices for a dog yet won't take one from a shelter. There is certainly nothing wrong with a shelter dog. They've had their shots and they deserve a good home. Your local shelter is the perfect place to find dogs of every type, size, age and personality -- all waiting for a loving home. Let's tell all our friends about it, sister. Well, not that you have any.

Edna: Margie, I do believe you would treat a dog better than you do me. Maybe October should be "Adopt Edna" month, then I'd have a loving home with people who care about me instead of living with you. Ah, but a woman can dream!

Margie: Edna, that's a brilliant idea!! Let me get some cardboard and post signs all over town. Why don't you go start packing, dear? I'll even make a jug of tea for you to take along. Oh, here's a picture of me for your new bedside table. Would you like it autographed?

Edna: Kiss my foot, you harpy.