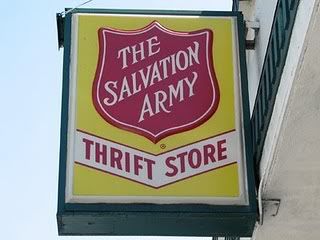 Margie: Edna, today is National Thriftshop Day and I feel like going shopping. I must say that we learned all about thrift from Mama and the Depression. I don't understand why some people are so snotty about being frugal. Mrs. Bobo told me she doesn't buy anything unless it's expensive. What do you think about
that, sister?

Edna: I've said it before and I'll say it again: Mrs. Bobo is an idiot. There is nothing wrong with being thrifty and counting your pennies. It's how we manage to live as well as we do when others are suffering in these hard economic times. And there's no shame in visiting a thrift store. In fact, it's "green" since you're not buying new products. Reduce, reuse, and recycle!

Margie: Sister, sometimes all I have are pennies. That's why I've been sending away for free samples. And, don't forget that we shop at Save-A-Lot and their prices and quality are as good as Mrs. Idiot could want.

Sister, give me your pennies and I'll be glad to recycle them.