Margie: My gosh-darn sister, Edna the nitwit, tries to mess up everything I do. Here she wants me to do my Fun Friday on a Thursday! Well, if that's what she wants then she's gonna get it.

Look at this folks. This is my new love- Jax from Sons of Anarchy on FX. He's delicious.


This is Maggie Siff. She plays Jax's girlfriend, Tara, on the show. Lord a mercy, I'd like to trade bodies with her for about a week.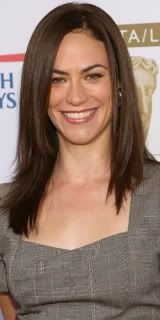 This is the best show on TV today. Yes, it's quite violent at times and the language is rough to my dignified ears but I just keep my eyes on the Jax. I meant to say the screen.
Ladies, come see all these fine
motorcycle
men. They are just hot. FX on Tuesday nights at 10:00 ET. Enjoy!