As we continue to count down to September 19th, the Castle season 4 premiere, we've got a bit of a link roundup for this Fillion Friday.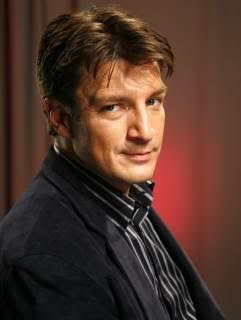 First, it should come as no surprise to anyone that Nathan was named the 6th most popular star on primetime television by Entertainment Weekly!
However, we'd much rather read TV Guide, who ranked Nathan 2nd among the top 10 actors on television. (Behind Jennifer Aniston, we can only assume most of the poll respondents were men. I guess we shouldn't be too annoyed, Castle was ranked #6 in their top shows list.)
Also (spoiler alert!), you can head over here to check out some on-set photos of Nathan and the Castle crew filming for the new season.
Finally, Nathan is going to be a guest on Jimmy Kimmel Live on Monday Sept. 12th (12am EST/11PM Central). You know we'll be tuning in with our popcorn popped and special tea at the ready.