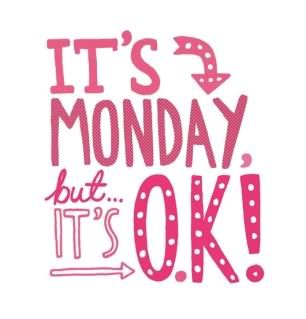 Margie: Edna, do you ever go to Facebook on Mondays and read all the
comments from working people? Monday is surely not a happy day for most
people. I can understand, though, because I worked Mondays for years. I am
so happy to be retired.
I think we should probably give those folks a few tips and they might not mind
Monday so much. What do you think?
Edna: Unlike most of your ideas, I think this is a great one. When I was working full-time, I always had a Sunday night routine. I'd start in the afternoon and get everything ready for the next day, that way I could spend Sunday night relaxing and be all fresh and ready by the time Monday rolled around. It sure made Monday a whole lot easier to deal with.
Margie: I know all about your dang routine. You got in everybody's way doing all your primping. Daddy always got a headache from your stinking nail polish. You relaxed on Sunday night but the rest of us were pooped. Anyway, I suggest putting a picture of a handsome man on your bathroom mirror so that's what you see when you first get up on Monday morning. That'll get the old motor going.
Edna: Maybe it will get your motor going on a Monday morning if you're a floozy. Oh wait, I forgot who I was talking to.
I always found Mondays easier to get through if I had something fun planned for later in the day. Maybe lunch with a friend, or an early movie after work. It sure made the day's annoyances easier to ignore.
Margie: I don't recall you having any friends, moron. What I enjoyed was preparing my Monday dinner on Sunday so I only had to warm it up. It meant a lot to me that I could come home and not have to do chores.
Working with the public was annoying so I always had some quiet time when I got home on Mondays. Well, if you'd have left me alone.
Edna: Well then, sister, I'm going to make your Monday spectacular this week and spend it elsewhere. Maybe then we'll both have a nice Monday for once!
Margie: I love Mondays! What a happy day it will be. Bless you, sister!