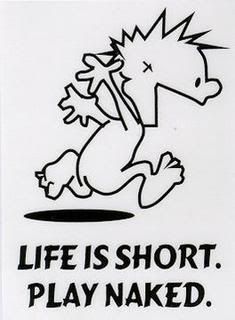 Margie: Yes, you see correctly that it's nude recreation week. I'm so happy my old sister is vacationing so I can have this week to myself.

Some of us from Bailey's will be meeting at the creek for skinny dipping. You all should come join us. I'll not be wearing clothes in the house all week and you know how Edna would have a hissy fit about that.

What will you do this week? Go nude in the house? Yard? Go skinny dipping? Whatever you do be careful but have fun.

I wonder if I should streak through the grocery store? Wouldn't that be fun?