Marisa Tomei at the 2011 Academy Awards
Edna: You know, I don't care what all the fashion gurus say, I loved that Miss Marisa Tomei wore a vintage gown at the Oscars a couple weeks ago. I think it takes a strong personality and a genuine appreciation for glamour to be willing to wear an old dress on the red carpet. And not just any old dress, either. It was a 1950 Charles James gown.
These days, celebrities often show more skin than they hide. And don't even get me started on the nonsense that Lady Gaga calls "style." As far as I'm concerned, the world needs more old-fashioned glamour in it.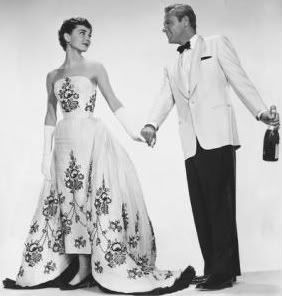 Audrey Hepburn (in Givenchy) and William Holden in "Sabrina", 1954.
Margie: Some people show more stupidity than they hide too, sister.
Edna: Spoken like an expert, folks!