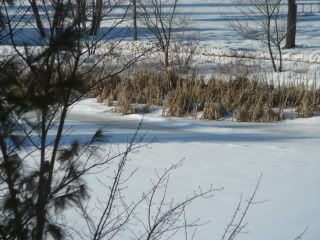 Cousin T: I came as quick as I could Miss Margie. Bobby Fink delivered your message to high tail it over here and bring my goo-lashes. But it hain't rained in weeks - more likely to snow I'd say.

Margie: Slow down, Cousin T, and open your ears.
You know how folks make all these New Year's revolutions? Some say they want to diet or take a trip or whatever. You know?

Cousin T: Yeah, like for instance, mine is to quit having damn fool notions

Margie: Good. Here's my notion then. You take that hose of ours and go in the back yard and run water until the back fills up. That water should freeze real quick. We'll be ice skating in no time.Then we'll charge folks to come skate and tell them this is good exercise.

Cousin T: Them revolutions is over rated anyhow. Do you think I should cut the grass first so we get less of it sticking up through the ice?

Margie: Cousin T, you know I don't know a thing about yard work. Wait. Wouldn't a little grass sticking up be a pretty decoration?

You decide and I'll go make your fried apple pies.