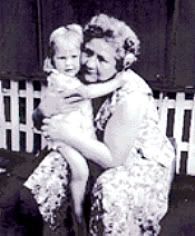 Margie: Today is National Senior Citizen's Day. Listen to what I read in the newspaper:
"On this day, we are encouraged to recognize and show appreciation for the value and contribution of elderly people to home, family and society."
Lawsy me, I hope we have visitors today and they appreciate us with some good home cooking. I like chocolate and cookies, and a cake would be nice too. What do you think, Edna?
Edna: I think you're living in a fool's paradise if you think anyone's going to come and shower you with treats today. It's been a long time since anyone appreciated us around here, with the exception of poor Cousin T. I will say this, though: sometimes being a senior citizen does have its perks. Like the senior citizen discounts we get down at Bailey's Tavern.
Margie: I do love those discounts, Edna. You know what else I like? We can be as eccentric as we like and people chalk it up to our age. They don't know we've always been like this.
Edna: We? Speak for yourself, sister, I'm not the least bit eccentric and never have been. I do think that people are more polite to older folks, at least in my experience. Young men are constantly giving me their seat on the bus, and I reward them with a pleasant smile and a wink.
Margie: Get a life, Edna. You've never had a pleasant smile, you coined the term eccentric, and the young men probably thought your wink was a tic.
I must say, though, that I love how polite the young gentlemen are when they see me. They're always asking me for advice about romance.
Edna: Margie, they only ask you for advice because they want to know what not to do.
You and I both know that we could snipe at each other until the cows come home. How about if we just say that it's nice that senior citizens have their own day, and leave it at that?
Margie: It is nice, Edna, and may I add that I hope everyone will be kind to all senior citizens today?