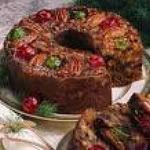 Margie: Folks, it's that time of the year again. You know what I mean. Yes, time to give those fruitcakes as gifts. Trust me when I say nobody wants them. Do yourself a favor and waste your money on something else.

People sure have made fun of poor old fruitcakes over the years. You know what I do like about fruitcake? If it wasn't for the fruitcake then we wouldn't have that old saying about somebody being "as nutty as a fruitcake."

Hey Edna, what do you think about fruitcake?


Edna: Oh Margie, you left yourself wide open on that one, but I'm going to take the high road and behave with some dignity. I must say, I'm not a big fan of fruitcake. But it is indeed a time-honored holiday tradition. You know, Mama had a recipe for fruitcake, it was for the kind that got soaked in rum for a month. Whoo boy, that would sure brighten up your holidays!


Margie: Get off your high horse, Edna. You left your dignity in San Francisco. Didn't think I knew about that did you ?

I could use some brightening up so I might just make Mama's fruitcake. It ought to be ready by New Year's Eve for my party.


Edna: You'd better serve that thing with black coffee and designate some drivers, because just one slice will make you see pink elephants.


Margie: Are we going to the circus? I love elephants, Edna.


Edna: Save some of that rum for the fruitcake, Margie.