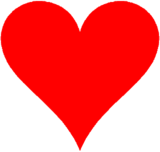 Margie: February is American Heart Month. No, I'm not just talking Valentine's. Those would be nice though. In fact, there's never been a year when at least one gentleman didn't bring me flowers and chocolate. My sister, Edna, is a different story. Well, that's a story for another time.

I'm here today to talk about heart health. Just look at me still going with a strong heart. Unlike some people I know I don't lay on the sofa all day cramming my mouth full of candy and cookies.

You folks go right here and learn more about keeping your heart healthy.